Request a Quote
Catalog
Advanced Stainless Steel Drainage Systems for Industrial & Commercial Kitchen Solutions
ACO offers sustainable, integrated drainage systems designed to protect your business and the environment. Our aim is to constantly improve every aspect of safety, delivering a hygienic and functional performance system that can even be water proof. We believe our systems and services are truly unique and deliver unparalleled benefit to everyone involved in project delivery and of subsequent operation.
Many of our stainless steel drainage products in the Building Drainage division are floor and trench systems designed to be the ultimate in hygienic performance solutions, ensuring the health and safety of workers, customers and products, while still allowing clean-in-place functionality.
Contact us today! (520) 421-9988.
---
Other ACO Product Brand & Solutions
Have a question? Need a quote? We would love to help! Contact us today. 1-800-543-4764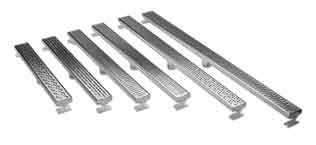 Quartz ACO ShowerDrain channels offer a more artistic solution to shower drainage. There are 7 grate styles available in stainless steel or oil-rubbed bronze to complement other bathroom fixtures. Point drains also available in 5 grate styles, including tile inlay.
Let us help you find the perfect solution to your bathroom needs.