Grand Opening of Mentor Facility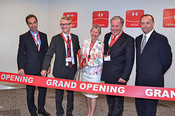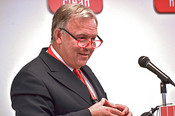 ACO Polymer Products, Inc. is pleased to announce it has recently moved its Ohio operations facility from Chardon to Mentor. A grand opening celebration was held Wednesday, September 2 at the new facility in Mentor. Mrs. Johanna Ahlmann and Mr. Hans-Julius Ahlmann, President of ACO Severin Ahlmann GmbH & Co. KG, along with Iver Ahlmann, President of ACO Germany, commemorated the opening with a ribbon cutting. The celebration had over 100 guests in attendance, including ACO employees, contractors, vendors, City of Mentor officials, members of the local Chamber of Commerce and guests from the state legislature.
"The main reason for the move was to help grow the ACO business in the United States," said Vaclav Tikalsky, President of ACO USA, as he welcomed the guests at the event last week. "This move has given our northeast employees a new workplace with the conveniences and technology similar to other ACO locations.
The ACO team has worked hard to make this place look nice and functional. It has allowed us to install the latest production technology which will increase our capacity by 35% and help ACO to strengthen its market leader position as well as provide customers with better service and quality."
ACO Polymer Products, Inc. was founded in 1978 and the facility in Chardon, Ohio was ACO's first manufacturing factory in the USA. Due to ACO's growth and demand in recent years, the Chardon site was no longer able to accommodate the increasing demand necessary to support ACO's business in the northeast. ACO found an ideal location in Mentor, Ohio, 16 miles north of the Chardon site that met the needs of expanding the operations.
"This move was a success because of the efforts of both plants here in the United States as well as people from Poland, the Czech Republic and Germany. This day would not have happened if it weren't for all the employees here in Mentor," said Brian Parent, Director of Operations for ACO USA.
Other Articles You May Like:
ACO Celebrates Grand Opening of New Facility
Optimizing Hygienic Performance with Drainage Design - Part I
Optimizing Hygienic Performance with Drainage Design - Part II
Hygienic Drain Designs, sanitizers and drain management
Driving the Future of Drainage