ACO hygienic drainage fulfills the strongest hygienic requirements to prevent bacterial contamination. We apply hygienic design principles reserved for food processing equipment (EHEDG document No. 8, 13 and 44) to the floor drain design and NSF/ANSI 3-A 14159-1-2014.
ACO Hygienic Floor Drain Features:
Full drainability
Internal radii equal or larger than 1/8 inch (3 mm), increasing cleaning effectiveness
Hygienic joints
Edge infill
Stainless steel grade min. 304 according to AISI
Fully pickle passivated
A deep-drawn body ensures smooth contours eliminating crevices that can harbor bacteria
Fully drainable system
Connects seamlessly with surrounding floor
Maintained easily
Corrosion-resistant
Slip resistant grates
ACO Floor Drain range is available in a number of versions featuring different grates, sizes and vertical or horizontal outlet options to suit various applications and flow requirements.

The floor construction and depth together with the use of any waterproofing membrane play an important role in the selection of the appropriate type of floor drain.

Fixed height floor drains are convenient and free-standing units which are suitable for cementitious, resin or tiled floors.

Adjustable drains can be installed either with a floor drain top or ACO trench drain in most flooring constructions, including floors with waterproofing membranes.
Adjustable and Fixed Height Solutions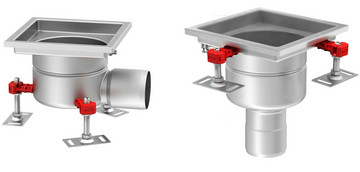 Fixed Height - Vertical Outlet
Top Size
in (mm)
Outlet Diameter
∅
in (mm)
Material
Part No.


8 Inch




8" x 8" (200 x 200 mm)
2"
Sch 10
(60 mm)
AISI 304
445238
AISI 316L
45274
8" x 8" (200 x 200 mm)
4"
Sch 10
(114 mm)
AISI 304
445240
AISI 316L
445276
Fixed Height - Horizontal Outlet
Top Size
in (mm)
Outlet Diameter
∅
in (mm)
Material
Part No.


8 Inch


8" x 8" (200 x 200 mm)
2"
Sch 10
(60 mm)
AISI 304
445242
AISI 316L
445278
8" x 8" (200 x 200 mm)
4"
Sch 10
(114 mm)
AISI 304
445244
AISI 316L
445280
Fixed Height - Vertical Outlet
Top Size
in (mm)
Outlet Diameter
∅
in (mm)
Material
Part No.
10 Inch



10" x 10" (250 x 250 mm)



3"
Sch 10
(89 mm)
AISI 304
445114
10 Inch
AISI 316L
445180
10 Inch
4"
Sch 10
(102 mm)
AISI 304
445116
10 Inch
AISI 316L
445182
Fixed Height - Horizontal Outlet
Top Size
in (mm)
Outlet Diameter
∅
in (mm)
Material
Part No.
10 Inch


10" x 10" (250 x 250 mm)


3"
Sch 10
(89 mm)
AISI 304
445118
10 Inch
AISI 316L
445184
10 Inch
4"
Sch 10
(114 mm)
AISI 304
445120
10 Inch
AISI 316L
445186
Fixed Height - Vertical Outlet
Top Size
in (mm)
Outlet Diameter
∅
in (mm)
Material
Part No.
12 Inch
12" x 12" (300 x 300 mm)
4"
Sch 10
(114 mm)
AISI 304
445104
12 Inch
12" x 12" (300 x 300 mm)
4"
Sch 10
(114 mm)
AISI 316L
445170
12 Inch
12" x 12" (300 x 300 mm)
6"
Sch 10
(168 mm)
AISI 304
445106
12 Inch
12" x 12" (300 x 300 mm)
6"
Sch 10
(168 mm)
AISI 316L
445172
Fixed Height - Horizontal Outlet
Top size
in (mm)
Outlet Diameter
∅
in (mm)
Material
Part No.
12 Inch
12" x 12" (300 x 300 mm)
4"
Sch 10
(114 mm)
AISI 304
445112
12 Inch
12" x 12" (300 x 300 mm)
4"
Sch 10
(114 mm)
AISI 316L
445178
Fixed Height - Vertical Outlet
Top Size
in (mm)
Outlet Diameter
∅
in (mm)
Material
Part No.


8 Inch




8" x 8" (200 x 200 mm)
2"
Sch 10
Sch 10(50.8 mm)
AISI 304
445238
AISI 316L
45274
8" x 8" (200 x 200 mm)
4"
Sch 10
Sch 10(101.6 mm)
AISI 304
445240
AISI 316L
445276
Fixed Height - Horizontal Outlet
Top Size
in (mm)
Outlet Diameter
∅
in (mm)
Material
Part No.



8 Inch




8" x 8" (200 x 200 mm)
2"
Sch 10
Sch 10(50.8 mm)
AISI 304
445242
AISI 316L
445278
8" x 8" (200 x 200 mm)
4"
Sch 10
Sch 10(101.6 mm)
AISI 304
445244
AISI 316L
445280
Fixed Height - Vertical Outlet
Top Size
in (mm)
Outlet Diameter
∅
in (mm)
Material
Part No.
10 Inch
10" x 10" (250 x 250 mm)
3"
Sch 10
Sch 10(76.2 mm)
AISI 304
445114
10 Inch
AISI 316L
445180
10 Inch
4"
Sch 10
Sch 10(101.6 mm)
AISI 304
445116
4"
Sch 10
Sch 10(101.6 mm)
AISI 316L
445182
Fixed Height - Horizontal Outlet
Top Size
in (mm)
Outlet Diameter
∅
in (mm)
Material
Part No.
10 Inch
10" x 10" (250 x 250 mm)
3"
Sch 10
Sch 10(76.2 mm)
AISI 304
445118
10 Inch
AISI 316L
445184
10 Inch
4"
Sch 10
Sch 10(101.6 mm)
AISI 304
445120
10 Inch
AISI 316L
445186
Fixed Height - Horizontal Outlet
Top Size
in (mm)
Outlet Diameter
∅
in (mm)
Material
Part No.
12 Inch
12" x 12" (300 x 300 m)
4"
Sch 10
Sch 10(101.6 mm)
AISI 304
445112
12 Inch
12" x 12" (300 x 300 m)
4"
Sch 10
Sch 10(101.6 mm)
AISI 316L
445178
Fixed Floor Drain Top

Floor drain top size
in (mm)
Material
Part No.
8" x 8" (200 x 200 mm)
AISI 304
414732
AISI 316L
414832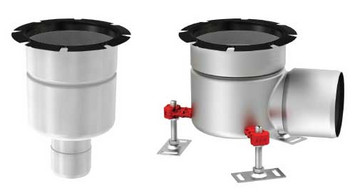 Adjustable Height - Horizontal Outlet
Top Size
in (mm)
Outlet Diameter
∅
in (mm)
Material
Part No.



8" x 8" (200 x 200 mm)



2"
Sch 10
(60 mm)
AISI 304
445238
AISI 316L
45274
3"
Sch 10
(89 mm)
AISI 304
445147
AISI 316L
445213
4"
Sch 10
(114 mm)
AISI 304
445240
AISI 316L
445276
Adjustable Height - Horizontal Outlet
Top Size
in (mm)
Outlet Diameter
∅
in (mm)
Material
Part No.
10" x 10" (250 x 250 mm)
3"
Sch 10
(89 mm)
AISI 304
445118
10" x 10" (250 x 250 mm)
3"
Sch 10
(89 mm)
AISI 316L
445184
10" x 10" (250 x 250 mm)
4"
Sch 10
(114 mm)
AISI 304
445120
10" x 10" (250 x 250 mm)
4"
Sch 10
(114 mm)
AISI 316L
445186
Flanges - Vertical Outlet
Type of Flange
Outlet Diameter
∅
in (mm)
Material
Part No.
Location Flange
2"
Sch 10
(60 mm)
AISI 304
445246
AISI 316L
445282
Mechanical Clamping Flange
AISI 304
445250
AISI 316L
445286
Location Flange
3"
Sch 10
(89 mm)
AISI 304
445123
AISI 316L
445189
Mechanical Clamping Flange
AISI 304
445127
AISI 316L
445193
Location Flange


4"
Sch 10
(114 mm)



AISI 304
445129
AISI 316L
445195
Mechanical Clamping Flange
AISI 304
445133
AISI 316L
445199
Flanges - Horizontal Outlet
Type of Flange
Outlet Diameter
∅
in (mm)
Material
Part No.
8 Inch
Location Flange
2"
Sch 10
(60 mm)
AISI 304
445258
8 Inch
AISI 316L
445294
8 Inch
Mechanical Clamping Flange
AISI 304
445262
8 Inch
AISI 316L
445298
8 Inch
Location Flange
4"
Sch 10
(101.6 mm)
AISI 304
445264
8 Inch
AISI 316L
445300
8 Inch
Mechanical Clamping Flange
AISI 304
445268
8 Inch
AISI 316L
445304
8 Inch
Standard Edge
8" x 8" (200 x 200 mm)
AISI 304
414732
8 Inch
AISI 316L
414832
Flanges - Horizontal Outlet
Type of flange
Outlet Diameter
∅
in (mm)
Material
Part No.
Location flange

3"
Sch 10
(89 mm)
AISI 304
445147
AISI 316L
445213
Mechanical clamping flange
AISI 304
445151
AISI 316L
445217
Location flange


4"
Sch 10
(114 mm)


AISI 304
445153
AISI 316L
445219
Mechanical clamping flange
AISI 304
445157
AISI 316L
445223
Location flange
4"
Sch 10
(114 mm)
AISI 304
445159
Location flange
4"
Sch 10
(114 mm)
AISI 316L
445226
Mechanical clamping flange
4"
Sch 10
(114 mm)
AISI 304
445163
Mechanical clamping flange
4"
Sch 10
(114 mm)
AISI 316L
445229
Flanges - Vertical Outlet
Type of Flange
Outlet Diameter
∅
in (mm)
Material
Part No.
Location Flange

2"
Sch 10
(60 mm)


AISI 304
445246
AISI 316L
445282
Mechanical Clamping Flange
AISI 304
445250
AISI 316L
445286
Location flange
4"
Sch 10
(114 mm)
AISI 304
445252
Location flange
4"
Sch 10
(114 mm)
AISI 316L
445288
Mechanical clamping flange
4"
Sch 10
(114 mm)
AISI 304
445256
Mechanical clamping flange
4"
Sch 10
(114 mm)
AISI 316L
445292
Location Flange



3"
Sch 10
(89 mm)



AISI 304
445123
AISI 316L
445189
Mechanical Clamping Flange
AISI 304
445127
AISI 316L
445193
Location Flange



4"
Sch 10
(114 mm)



AISI 304
445129
AISI 316L
445195
Mechanical Clamping Flange
AISI 304
445133
AISI 316L
445199
Location Flange
4"
Sch 10
(114 mm)
AISI 304
445199
Location Flange
4"
Sch 10
(114 mm)
AISI 316L
445201
Location Flange
4"
Sch 10
(114 mm)
AISI 304
445135
Location Flange
4"
Sch 10
(114 mm)
AISI 316L
445201
Mechanical clamping flange
4"
Sch 10
(114 mm)
AISI 304
445139
Mechanical clamping flange
4"
Sch 10
(114 mm)
AISI 316L
445205
Location Flange
6"
Sch 10
(168 mm)
AISI 304
445141
Location Flange
6"
Sch 10
(168 mm)
AISI 316L
445207
Mechanical clamping flange
6"
Sch 10
(168 mm)
AISI 304
445145
Mechanical clamping flange
6"
Sch 10
(168 mm)
AISI 316L
445211
Flanges - Horizontal Outlet
Type of Flange
Outlet Diameter
∅
in (mm)
Material
Part No.
Location Flange
2"
Sch 10
(60 mm)
AISI 304
445258
AISI 316L
445294
Mechanical Clamping Flange
AISI 304
445262
AISI 316L
445298
Location Flange


3"
Sch 10
(89 mm)


AISI 304
445151
AISI 316L
445217
Mechanical Clamping Flange
AISI 304
445268
AISI 316L
445304
Standard Edge
4"
Sch 10
(114 mm)
AISI 304
414732
AISI 316L
414832
With location flange
4"
Sch 10
(114 mm)
AISI 304
445264
With mechanical clamping flange
4"
Sch 10
(114 mm)
AISI 316L
445300
With location flange
4"
Sch 10
(114 mm)
AISI 304
445268
With mechanical clamping flange
4"
Sch 10
(114 mm)
AISI 316L
445304
Location Flange
4"
Sch 10
(114 mm)
AISI 304
445159
Location Flange
4"
Sch 10
(114 mm)
AISI 316L
445226
Mechanical clamping flange
4"
Sch 10
(114 mm)
AISI 304
445163
Mechanical clamping flange
4"
Sch 10
(114 mm)
AISI 316L
445229
Location Flange
4"
Sch 10
(114 mm)
AISI 304
445135
Location Flange
4"
Sch 10
(114 mm)
AISI 316L
445201
Adjustable Floor Drain Top
Floor drain top type
Floor drain top size
in (mm)
Material
Part No.
Standard Edge
8" x 8" (200 x 200 mm)
AISI 304
414732
AISI 316L
414832
Standard Edge
10" x 10" (250 x 250 mm)
AISI 304
408248
AISI 316L
414258
Standard Edge
12" x 12" (300 x 300 mm)
AISI 304
408228
Standard Edge
12" x 12" (300 x 300 mm)
AISI 316L
408238